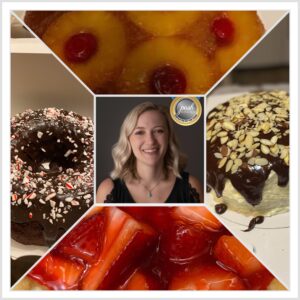 Who says color and texture are limited to just hair?  Posh stylist Andrea works her magic in the salon AND in the kitchen!
She's Posh Salon's Employee of the Year and will charm you with cheesecake…  Meet Andrea, our Level 1 stylist who is also a brilliant baker; she knows exactly what you mean when you ask for a "caramel balayage"!
A Poquoson native, Andrea's cosmetology career began with an apprenticeship right here in Williamsburg.  She went on to work as a full-time stylist for four years before taking a brief pause, but ultimately realized that her true calling was in hair artistry.  "I came back to it because it's something different every day!  Whether it's meeting a new client, or trying something new on one of my regulars, it's always fresh and exciting."
Andrea's shorter-haired clients have been buzzing about her expertise with clipper cuts since she joined the Posh family last spring.  She is also gifted in balayage, a highly technical color application in which color is hand-painted to achieve a graduated, naturally highlighted effect.
"My favorite part of being a hairstylist is anytime I show a client their new hairstyle and they love it!" says Andrea.  The hardest part?  "Being on the move, honestly!  Being on your feet all day can be physically exhausting, but it's totally worth it."
That's no surprise, considering that you'll rarely find Andrea sitting down on the job.  She is always one to lend a hand to her fellow stylists, and takes great pride in making sure the salon stays clean and organized.  Her positive attitude and commitment to helping others was unanimously recognized by the entire Posh staff when they selected her for the prestigious honor of Employee of the Year.
When she's not cooking up new hairstyles, you can often find Andrea baking in the kitchen, where her specialties include all varieties of cheesecakes and cookies, made from scratch.  "It's been a great way to connect with my coworkers at Posh.  Nobody turns down free cheesecake!"  A foodie at heart, Andrea also shares the tradition of trying a new local restaurant each week during 'date night' with her husband.
What has been the recipe for Andrea's success?  Equal parts excellence behind the chair, and excellence in teamwork.  The freshly-baked cookies in the employee break room certainly don't hurt either…